Dîner Amical
The Ranchmen's Club
Sunday, September 22, 2013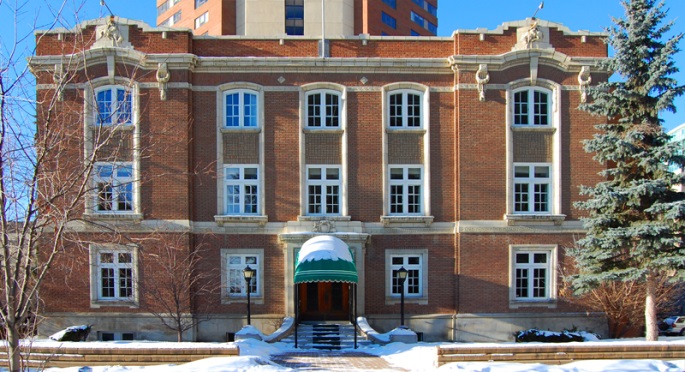 It is always a treat to be allowed through the doors of The Ranchmen's Club.  Founded in 1891 by the most eminent cattlemen of the day, it is the oldest private club in Calgary.  The current building has been its home since 1914, and when renovated in 1980, great care was taken to retain the atmbience of the original.  The Ranchmen's club was originally patterned on the hallowed Men's Clubs of Britain; today it serves as a retreat from the rigors of the business world, enjoyed by men and women from many professions.  While some of our Chaine confères enjoy the privileges of membership, we are all honored when General Manager David Houghton and Executive Chef Kenneth Titcombe invite us to enjoy the ambiance and excellence of their establishment.
Members and guests met and mingled over a glass of excellent champagne and delicious Hor d'oeuvres, before moving to the elegant dining room for a series of courses that featured some of the best food Canada provides. The accompanying wines were varied and interesting, paired expertly with each course.  Service was attentive and professional, reflective of the standard of the Club.  The meal was studded with many elegant and sometimes surprising details, adding to the diners' delight.
PEI Blackberry Point Oysters with Champagne and Shallot Mignonette
Porcini Mushroom, Super Tuscan Nero Risotto Balls
with Tallegio Centres on Yellow Tomato Compote in Japanese Spoons
Petit Quenelles of Alberta Bison Tartar
with Molecular Saskatoons on Wild Rice Blini
Taittinger Comtes de Champagne Blanc be Blanc, 2004

Terrine of Arctic Char Gravlax with Two Beet Root Swirls,
Chive Crème Frâiche and Divine Canadian Caviar
Greywacke by Kevin Judd Wild Sauvignon Blanc 2010,
Marlborough, New Zealand

Squash Soup Curry Scented
with House Smoked Free Range Chicken and Herb Stuffed Morel Mushrooms
Pewsey Vale Riesling 2011
Eden Valley, Australia

Pan Seared Fillet of West Coast Sablefish, Deep Water BC Spot Prawn,
Snap Pea Puree, Wilted Arugula and Cognac Crème
Joseph Drouhin Meursault 2010
Burgundy

Supreme of Squab and Seared Quebec Rouge Foie Gras,
Petit  Crostini, Blueberries, Pistachio, Microgreens and Ice Wine Gelée
Domaine Drouhin Pinot Noir 2011
Dundee Hills, Oregon

Yukon Caribou Contra-Filet Sous Vide
on Hendricks Infused Gin and Juniper Jus, Clove Scented Red Cabbage,
Cave Aged Gruyere Agria Potatoes Gratin, Roasted Seckel Pear with Lingonberry Compote
Cignale Castello De Querceto, Tuscany 2005
"Magnum"

Trio of Fromage "Riopelle, Avonlea Cheddar and Dragon's Breath Blue",
Rain Coast Crisps, Molecular Apricot, Fig and Prune Plums
Library Release Croft Vintage Port 1991

Apple Dessert done Four Ways by Jenn
Henry of Pelham Riesling Ice Wine 2011, VQA,
Niagara, Ontario
Belgian Dark Chocolate Horse Heads
With Espresso Caramel Centre
Café
Bailli Regional Mark Wilson concluded the evening with a heartfelt accolade, praising both the kitchen and service staff for their skill and professionalism.  Plates were presented to Sous-Chef and Saucier Ray Magunson, and Duncan Cameron for excellent service.