Competition Rules 2019
A competitor must be at least 21 (twenty-one) on March 15, 2019 and must not yet have reached his or her 31st (thirty-first) birthday on September 30, 2019.
The deadline for application is March 15, 2019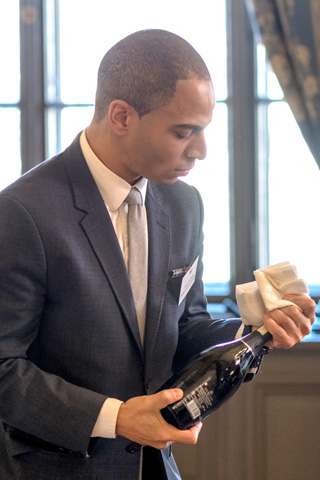 If you're a sommelier – whether new to our competition or a veteran – read this page, describing the competitive process and calendar, then click on the registration form to sign up. There's no cost, and lots of professional benefits and prizes.
If you know other sommeliers under 30 who are polishing their skills and looking for an educational challenge, tell them to enrol in this year's contest right away! And in case they need a nudge, send us an email with their name and contact information and we will follow up.
Sommeliers benefit by increasing their professional knowledge and skills through the competitive process, by enhancing their resumé through Chaîne recognition, and by meeting new people both in their profession and in the Chaîne who can help them succeed in the future. Many of the past international past competitors have gone on to become Master Sommeliers.
On this page, you will find detailed information about the 2019 Young Sommeliers competition. Please contact Joe Scorgie if you have any questions. Thank you. Vive La Chaîne and Mondiale!
Preface
L'Ordre Mondial was created to promote the enjoyment, knowledge and understanding of fine wines and crafted beverages. The framework of the Mondial provides for professional and amateur participation, with one of its goals being to provide help, encouragement and support for the young professionals who are to be the best sommeliers of the future. The Young Sommeliers Competition promotes the expertise of the young wine and spirit professional and encourages mastery of wine and spirit knowledge.
Eligibility
The 2019 Young Sommeliers Competition is open to any qualified individual who:
Is an Canadian citizen (by birth or naturalization) AND has demonstrated an active interest in the wine and crafted beverage industry
OR is a legal resident of Canada, holding a valid work permit AND is actively employed in that country as a sommelier on the date of each stage of the competition in which the individual seeks to compete.
Is at least 21 (twenty-one) years of age on March 15, 2019 and has not yet reached his or her 31st birthday on September 30, 2019.
Is sponsored by a member of the Chaîne des Rôtisseurs (if you don't yet have a sponsor, don't worry – we'll arrange that for you).
To attain the distinction of being selected as the Best Young Sommelier of the year, the candidate must successfully progress through two stages: a first-round written test administered in person, on March 30, 2019, at the Ranchmen's Club, 710 – 13 Ave SW Calgary, Alberta, OR for Edmonton candidates, the test will be written in Edmonton location is TBD. The top six scoring competitors on the written stage will advance to the second final round test held in person on April 13, 2019, location TBD, Calgary, Alberta.
If the winner of the Calgary Young Sommeliers Competition is selected to compete internationally he/she will not be eligible to compete again. An individual may compete up to three times at a local competition, and must complete the entire qualification and eligibility process each time. Master Sommeliers and Masters of Wine are not eligible to compete. International rules may differ, which may affect who competes internationally.
Still photographs and video images may be taken at any time during the competition and they may be used by the Chaine Canada in such manner and at such times as it deems appropriate and without any prior consent, including print, internet, press releases and other materials created by or for the Chaine Canada, and may be made available by it to competition sponsors for their use.
Chaîne Young Sommeliers Competition Overview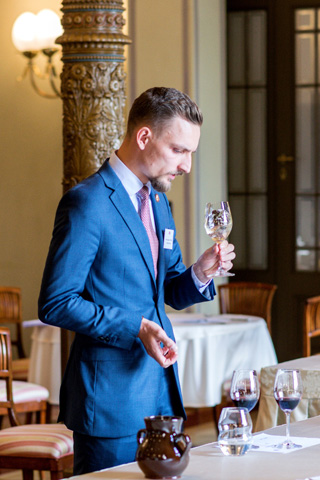 Saturday, March 30, 2019:
The first-round written test will be administered in person at the Ranchmen's Club, 710 – 13 Ave SW Calgary, Alberta and candidates whose applications have been previously accepted will arrive at the Ranchmen's Club at 10:00 am for the written test. This is a closed-book test. The test will be given at a single time this day ONLY. No other dates or times are possible for taking this test. The results of the first-round exam are used to determine the competitors invited to advance to the final. The initial written test result may also be a component of the final testing score. ONLY the TOP 6 contestants will advance to the final competition.
Edmonton candidates will write the test in Edmonton on the same date at the same time. The location is to be determined.
The final competition will feature the top-scoring candidates from the first-round test. The final competition will consist of a blind tasting evaluation of four wines described orally to the judges in 25 minutes, and a service test requiring the opening and serving of a sparkling wine, the decanting and serving of a red wine, and a table-side wine pairing exercise. The final competition will also include an oral examination of the candidate's wine knowledge
There is no cost to the young sommeliers to participate at any level of the competition. For a competitor selected after the competition to represent the Chaîne Canada at the International Competition all expenses will be paid by Chaîne Canada.
The Application
Applicants must have an interest in the wine and crafted beverage industry. The applicant must be sponsored by a Chaîne/Mondial member (which we can help applicants to arrange) and must file an online application. Click the link to complete and submit the application. A misrepresentation on the application is grounds for disqualification before or after an award, without appeal. A completed application is mandatory. The application and a government-issued photo ID verifying date of birth must be presented to the competition chair at or before the time of testing.
An Equal Opportunity Organization
The Chaîne is an equal opportunity organization and does not discriminate on the basis of race, national origin, religion, sex, handicap, marital status, sexual orientation. Information provided on the application will not be used for any discriminatory purpose.
Conduct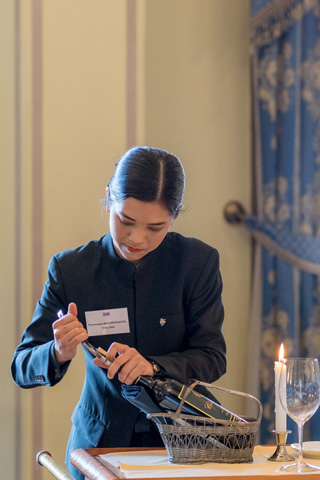 Candidates are expected to conduct themselves professionally and politely at all times during and after any and all stages of the competition, at all levels. This expectation extends to personal interactions, mode of dress, use of appropriate language, intoxication, honesty and truthfulness, and any other issue that may reflect upon the Chaîne des Rôtisseurs. The Chaîne may disqualify a candidate at any stage of the competition, including after an award has been made, if the candidate's conduct does not meet a high standard of honesty, professionalism, respect for others, and polite social interaction consistent with the traditions of the Chaîne as well as the Sommelier profession. Disqualified competitors may not represent themselves as having been competitors or winners at any stage of the competition, and may not compete in any subsequent year. In the event of a disqualification, the Chaîne may name an eligible competitor next in performance order to receive any award or recognition previously given to the disqualified competitor.
Decisions of the Chaîne Echanson or Bailli Délégué des Canada, Consul Délégué L'Ordre Mondiale are final and not subject to appeal.
First Round Written Test
The first-round test consists of a multiple-choice exam. Knowledge in all areas of wine and wine production, laws, viticulture and vinification, as well as spirits, beers, ales, ciders, port and sherry may be tested. The written exam will not exceed one hour. The first-round test will be conducted In person at 10:00am and is open to all qualified candidates who successfully complete the application process as outlined above. This is the ONLY date and time at which the test will be available. This is a closed-book test.
Second Round Final Competition
The format of the Final Competition is similar to the International Chaîne Young Sommeliers Competition and is conducted by a panel of Judges selected by the Calgary Vice Echanson. Judges are a mix of Masters of Wine, Master Sommeliers, other recognized, accomplished sommeliers, previous winners of the Chaîne Young Sommeliers competition, and Chaîne members with extensive wine knowledge and prior judging experience. The format features three areas of examination. These areas are Theory (oral), Service, and Blind Tasting. The exam format may be modified as deemed necessary by the Chaîne.
Oral (Theory) Test
Competitors will be quizzed about their wine knowledge, the questions will cover the same areas of knowledge as the first-round test but at a higher level of difficulty. Questions will test competitors' knowledge especially of wine regions, wine grapes, wine labels, wines styles, vintages, wineries, wine companies, wine laws, and key people in the world of wine, but will also address wine growing and wine making, vine diseases, and the history of wine, as well as beers, spirits, and other crafted beverages including tea service. There will not be any cigar questions unless the international rules allow for same and competitors will be advised in advance should that be the case.
Service Skills Testing
The Practical Service Skills test is a station-based service performance exam that includes decanting, sparkling wine service, blind identification of spirits, sparkling wine pouring, and other real-world tasks conducted within a time limit. There is also an exercise to recommend wines for pairing with various meal choices. These tests require full restaurant service skills, composure, appropriate dress and personal sommelier equipment.
Blind Tasting
The Blind Tasting test is a timed (25-minute) double-blind tasting of four wines. Scoring will be done based on the deductive tasting method. Scores will be assigned for assessment by sight, nose, and palate and by initial and final conclusions of each wine.
Other Test Elements
In the spirit of keeping current with the evolving demands of a sommelier's job, the national exam may include new components from time to time that are not divulged in advance. In 2013, a wine-term pronunciation test was introduced. In 2014, cocktail service was added.
Other innovations may be added without prior notice.
Final Competition

Location
The final competition will be administered in person at the Ranchmen's Club, 710 – 13 Ave SW Calgary, Alberta. The candidates with the top six scores on the March 30 written test will be invited to compete in the final test at 1:00pm on Saturday April 13.
Attire
Attire at both the regional and national competitions for female contestants is business suit or after-five/evening attire appropriate for a professional sommelier. Attire for male contestants is a business suit or tuxedo (black tie) appropriate for a professional sommelier. Attire for the judges is business attire.
Results
The final results will be announced directly after the conclusion of the final competition on April 13, 2019. Results are final and not subject to review or appeal. Appeals will not be considered. All competing sommeliers at the Final Competition must attend the entire announcement and awards ceremony in order to be eligible to receive an award. The announcement of the results will be recognized with photographs and press releases. The Chargée de Presse National (or her representative) is responsible for all photographs and press releases to be included in the next issue of Chaine Canada Newsletter.
Prizes
At the Final competition, medals will be awarded as follows:
Gold Medal and Trophy to First Place.
First place will be put forward as the Calgary contestant for the international competition. If selected this individual will compete in Seoul, South Korea at the International Young Sommelier Competition September 21-22, 2019.
If the winner of the Calgary Young Sommelier competition is not chosen to represent Canada at the international competition the winner will be awarded a $1000.00 cash prize in lieu of competing in Seoul, South Korea.
Silver Medal to Second Place and a cash prize of $500.00
Bronze Medal to Third Place and a cash prize of $250.00.
The first-place winner's name will be engraved on the perpetual Sommelier Competition trophy, which is kept by the Chaîne National Office for display purposes.
Third Round International Competition
All participants in the final competition must agree in advance, as a condition of their eligibility to compete, that if they are invited to advance to a higher level of the competition, they are committed to do so. A sommelier who has participated in the national competition and is subsequently invited to represent the Chaîne Canada to compete in the Chaîne International Young Sommeliers competition (Concours International des Jeunes Sommeliers), agrees upon applying to compete to do so. Expenses for the Canadian winner to attend internationally are paid by the Chaîne. The 2019 International Competition will be held in September 21-22, 2019, in Seoul, South Korea. Competitors must make sure that they have no date conflicts for the period of September 21-22, 2019, so that if invited by the Chaîne Canada to compete he or she will be available to do so.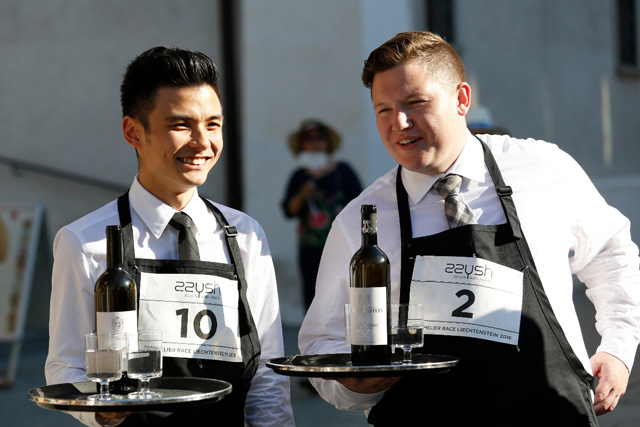 Fotoaufnahmen: Young Sommeliers Competition, CHAINE DES ROTISSEURS, Vaduz, Liechtenstein.
Lauf der 16 besten Sommeliers der Welt durch das Städtle in Vaduz.
Foto: ©Paul J. Trummer
© 2018 Confrérie de la Chaîne des Rôtisseurs, Ltd.