AGM Reception
The Saddledome
Wednesday, October 16, 2013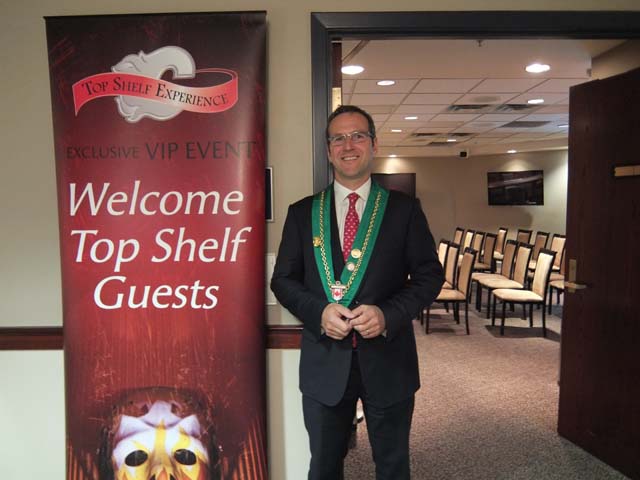 Following the Annual General Meeting, Chaine members were given a glimpse of what it's like to be a special guest at The Saddledome.  Through the hospitality of Flames Executive Chef Max Labhardt, we were privileged to sample a Street Food Fair, although the "street" from which we were sampling was just about as high-end as it could be.  In a screen-lined room on the same corridor as the Saddledome Suites, we enjoyed a variety of small dishes of exceptional quality.
Guests were greeted with a glass of Prosecco flavored with Framboise.  A selection of red and white wines were poured upon request by a friendly and attentive server, and port was served later in the evening as guests were visiting the Cheese Selection.
Arranged at stations around the perimeter of the room, small plates of delicious treats were finished à la minute by young chefs.  Other items were served by polite and professional service staff, who were clearly well trained and skilled in making their guests feel welcome.  The merest suggestion of a hope for some missed item, or a bit of information, was attended to promptly and knowledgeably.  Attention to detail, and novelty in presentation was noteworthy.
Espresso stout marinated bison flank steak and organic primavera salad, light vinaigrette
Cooked-to-order risotto station with fresh mushrooms and shaved black truffles
Wagyu beef pho noodle soup station
Cold goat cheese and fresh herbs dip and vegetable root chips
Fresh basil pesto mini pizza with chicken, caramelized pear and gorgonzola
Flames sous vide horseradish-infused beef slider
Lobster and Montreal foie gras poutine
Domestic and imported cheese board
Tuna tartare wrapped in thinly-sliced radishes topped with Canadian caviar and sour cream
Freshly shucked oyster with a Pinot Grigio mignonett
Selection of fine desserts
Congratulations to Chef Labhardt and his crew, both in the kitchen and those serving.  Thanks also to Saddledome staff, who were most informative.  The reception was a treat above and beyond anything we could have imagined.  Our members really enjoyed the chance to visit amidst this impressive array.
And to our members who were unable to attend … You should have been there.  You missed a really great experience