Dîner Amical




Il Sogno
November 3, 2013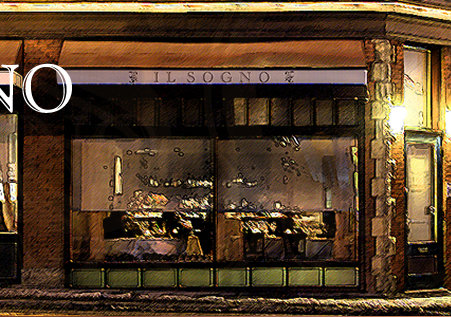 "Passione di Italia" – The Godfather
Patricia Koyich, the heart and soul of Il Sogno, is exemplary in her mastery of details.  From the artwork on the menu to the roses and cigars for departing guests, the details of her Dîner Amical made the experience delightfully engaging.
The room was beautifully appointed in snappy black and white with slashes of red.  An accordionist serenaded subtly in the background.
Diners were greeted by polished staff, uniformed in black shirts, with white satin ties and suspenders.  Each was offered a class of prosecco, or a delicious "Godfather Sour", an appetite-stimulating cocktail that was dangerously smooth.  Hors d'oeuvres included sardines, Italian sausage wrapped in prosciutto, and artfully arranged spoons of spaghetti with a tiny meatball.
Elegant table settings continued the "Godfather" theme, cleverly underlined by wine selections and menu notes evoking memories of the movie.  The restaurant was filled to capacity, and service was polished and perfectly paced.
The Menu
Braised BC Octopus
Olive oil potato chip, charred radicchio, black olive vinaigrette
Prosciutto Wrapped J&M Farms Rabbit Mousseline
Pickled chanterelle, arugula white bean salad, roasted carrot vinaigrette, focaccia
2011 Francis Ford Coppola Diamond Gold Label Chardonnay
"A man that doesn't spend time with his family is not a real man."

Seared Sablefish
Fennel consommé, braised pork belly, fava beans, micro fennel, tomato concassé
2012 Poggiotondo Vermentino IGT
"I'm gonna make him an offer he can't refuse."

Leek & Mushroom Portafoglio
Grana padano, red wine jus, shaved burgundy truffles
2008 Francis Ford Coppola Director's Cut Sonoma Coast Pinot Noir
"A pasta you can't refuse."

Limoncello Sorbet
"Revenge is a dish best served cold."

Roasted EweNique Farms Lamb Shoulder & Braised Shank
Squash and balsamic risotto, zucchini, squash
2009 Tenuta Setti Ponti Il Pino de Biserno IGT
"Try the lamb.  It's the best in the city."

Pecorino Moliterno al Tartufo
Preserved figs, savory chickpeas, ciabatta
2010 Feudo Maccari Saia Sicilia IGT Nero D'Avola

Chocolate Soufflé, Walnut praline, Mascarpone chantilly
2012 Fontanafredda Moscato d'Asti Le Fronde
"Leave the gun.  Take the souffle."

Torrone
Almond, pistachio
Remy Martin Cocktail

Chaine members rose enthusiastically to salute the brigade with Moscato d'Asti, or the final Remy Martin cocktail.  Bailli Regional Mark Wilson generously praised both the menu and the service, and presented plates to Executive Chef Brian Diamond and Events Manager Dominique Bushnaq.  Everyone was delighted with the whole event, and congratulations were warmly extended to Patricia Koyich, hostess extrodinaire, and her entire staff.
"Hey, come over here, kid, learn somethin'. You never know, you might have to cook for 20 guys someday."
— Peter Clemenza, The Godfather