l'Ordre Mondial
Sinfonia de Campania
Q Haute
Saturday, June 15, 2013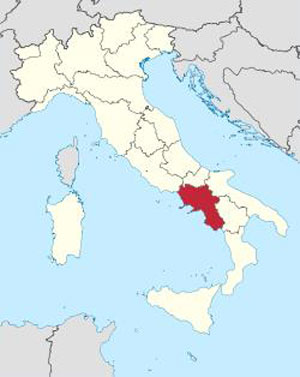 In our continuing quest to fully appreciate the wines of Italy, Vice-Echanson Patricia Koyich arranged for members of l'Ordre Mondial to experience the wines of Campania under the expert guidance of Q Haute Sommelier, Carl Boucher.
As we gathered, we enjoyed a sparkling glass of N/V Feudi de Sangregorio "Dubl", Falanghina Spumante Bruit Campagnia IGT.  Once assembled, Carl introduced us to the wines of the evening, accompanied by little bites prepared by Chef Michele Aurigemma and his staff.
SPUNTINO
beignet di polpa, pizzetta con acciugi, anitra inpanata, galette de capra
2011 Cantine Falesie, Aglianico rose, IGT Campagnia
Our instructive sampling underway, we moved into the beautiful dining room, elegantly set, and perfectly enhanced by the view and abundant natural light.  Skilled and professional wait staff began to facilitate an evening of delightful surprises.
Tomato "Trees" were presented, properly watered (which released their distinctive aroma), bearing the first of the Assagino.  The remaining items were delivered individually to our "clean slates".  Surprises included basil scented candy floss in the "tree", and an interesting presentation of melon pearls in prosciutto broth.  An excellent rosé complimented these very well.
ASSAGINO
Zuchero filato di basilico; ciliegino, riso, zucchini; meringa de anise e fegato;
oliva di gaeta, aglio al forno;  prosciutto e melone
2011 Cantine Falesie, Aglianico rose, IGT Campagnia
Throughout the evening, Carl Boucher moved from table to table, pointing out features of the wine and food, providing insight and elucidation.  Efficient and professional wait staff made sure that all details of the table were attended to promptly.  We continued to enjoy the wines and the accompanying courses created by Chef Michele Aurigemma to compliment them.
INSALATA POMODORO CIMELIO DE FAMIGLIA
burrata, accuiga bianca, prezzemelo, anguilla affumicato, salumi.
2010 Cantine Faliesi "Faliesa", Fiano de Avellino DOCG
RAVIOLO DI TARTUFI
Funghi selvatico, noce tostato, provolone
2010 Tenuta de Altavilla "Villa Maltide" Greco di Tufo DOCG
BRESAOLA DI AGNELLO
bietola e pinoli, puree di patata viola
peperone fritto, melanzane ripieno con ricotta
1999/2003 Mastroberardino "Radici" Riserva, Taurasi DOCG
Two vintages of this wine were poured to allow us to appreciate
the effect of Mother Nature upon the grapes.
DOLCINI
baba napolitana, biscotti cioccolate, fragolini meringa
Giuseppe Alberti, Strega Limoncello, Benevento, Campagnia
As coffee was served, Vice-Chanson Patricia Koyich rose to praise and thank
Sommelier Carl Boucher, Chef Michele Aurigemma, and their staff for their hard work, and our delightful experience.
a tavola non s'invecchia
And of course, we sang!