Chapitre – Hotel Arts
December 18, 2021

Ashley, Vice Chargée de Presse
***As per current COVID-19 guidelines in Alberta, The Restriction Exemption Program, all guests attending this dinner were required to provide proof of double vaccination, or a negative COVID test, upon entering the private function room at Hotel Arts.***
Having concluded the formalities for the evening we moved along to the reception.
This was located overlooking the pool adjacent to where we were to have dinner. We were served mulled wine in martini glasses, champagne, oysters, along with a selection of delicious hors d'oeuvres.
After the superb reception we were piped into the dining room by Fraser Abbott, followed by David Tetrault, Tony Cantanese, Toni-Marie Ion-Brown, and Mark Wilson, they were accompanied by their respective spouses.
Mark Wilson thanked Fraser Abbott for piping us in for dinner and they drank a toast.
Now seated, Toni-Marie, Bailli reminded us of the guidelines for the table etiquette and dinner began.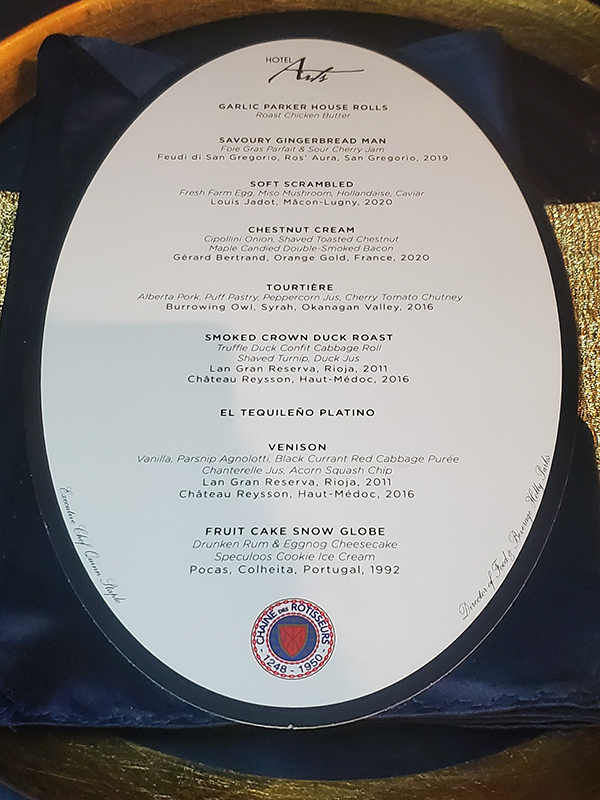 GARLIC PARKER HOUSE ROLLS
Roast Chicken Butter
SAVOURY GINGERBREAD MAN
Foie Gras Parfait & Sour Cherry Jam
Feudi di San Gregorio, Ros' Aura, San Gregorio, 2019
SOFT SCRAMBLED
Fresh Farm Egg, Miso Mushroom, Hollandaise, Caviar
Louis Jadot, Mâcon-Lugny, 2020
CHESTNUT CREAM
Cipollini Onion, Shaved Toasted Chestnut
Maple Candied Double-Smoked Bacon
Gérard Bertrand, Orange Gold, France, 2020
TOURTIÈRE
Alberta Pork, Puff Pastry, Peppercorn Jus, Cherry Tomato Chutney
Burrowing Owl, Syrah, Okanagan Valley, 2016
SMOKED CROWN DUCK ROAST
Truffle Duck Confit Cabbage Roll
Shaved Turnip, Duck Jus
Lan Gran Reserva, Rioja, 2011
Château Reysson, Haut-Médoc, 2016
EL TEQUILEÑO PLATINO
VENISON
Vanilla, Parsnip Agnolotti, Black Currant Red Cabbage Purée
Chanterelle Jus, Acorn Squash Chip
Lan Gran Reserva, Rioja, 2011
Château Reysson, Haut-Médoc, 2016
FRUIT CAKE SNOW GLOBE
Drunken Rum & Eggnog Cheesecake
Speculoos Cookie Ice Cream
Pocas, Colheita, Portugal, 1992

Once dessert had been cleared Toni-Marie Ion-Brown, Bailli delivered a succinct accolade. Our taste buds were delighted from the very beginning, with butter and soft rolls, perfect foie gras gingerbread men, delicately flavoured scrambled eggs, tortiere with divine Christmas flavours, the list goes on. It was such a change to have a sipping tequila as the palate cleanser. In addition having a warm towel brought to us was a charming surprise, reminiscent of flying.
We are all grateful that Yellow Door Bistro and Hotel Arts were the book ends of our 2021 year. We are grateful to have you as an establishment.
With the heart of the house and the front of the house brigades assembled the time came to announce the plate recipients for the evening. Toni-Marie, Bailli announced our plate recipients and Tony Cantanese, Bailli Délégué had the honour of presenting them.
For the Heart of the House, Sujin Choi, Pastry Chef.
The Front of the House, Jim Yee, Banquet Manager
The final plate this evening was a surprise, Mark Wilson, Vice President of the Hotel Arts group, and Bailli Provincial Honoraire was honoured with a plate. Having given out many plates during his time as Calgary Bailli, it was very special to honour him with his own plate.
Vive la Chaîne!