l'Ordre Mondial, Calgary Winter Club
April 18, 2018
Jeff Merrin, Chargé de Presse
For this event, Linda Robinson, Vice-Echanson invited Sam Holmes, General Manager International Sales for the Negociants International Group of Wineries to taste and compare wines from the Barossa Valley. Negociants International is one of Australia and New Zealand's pre-eminent exporters of premium wine. They are proud to represent many celebrated family-owned wineries, each of whom craft their wines with uncompromising dedication to quality and regional nuance. Negociants International is based in Angaston, in the heart of the world-famous Barossa Valley, home of the Hill Smith family and Yalumba Family Vignerons.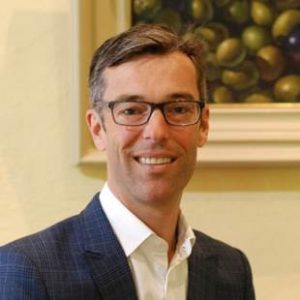 Sam Holmes
Sam brought the nice weather with him and the guests in attendance enjoyed a lovely reception and meal,
which highlighted the diversity and quality of products coming out of the Barossa Valley.
Canapés
Malpeque Oysters
Pork Belly Confit
Morcilla Egg Biscuits
Yalumba Organic Viognier 2016/7
and
Yalumba Eden Valley Viognier Barossa 2015/6

1st Course
Giant Scallop, Rice Chicharron, Yuzu Gel, Togarashi
Pewsey Vale, The Contours Riesling Museum Reserve, 2012
and
Jim Barry, The Florita Riesling Clare Valley, 2016
2nd Course
Spiced "Sungold" Lamb Chop, Muhammara Sauce, Wheat Berry Tabbouleh
Yalumba, Old Bush Vine Grenache Barossa, 2015
and
Henskchke, Henry's Seven SGM & Viognier Barossa, 2015
3rd Course
Beef Bacon Wrapped Dry Aged "Vintage 67" Striploin, Caramelized Shallot, Domino Potato, and Rosemary Gremolata
Yalumba, The Signature Cabernet Sauvignon Shiraz Barossa, 2013
4th Course
Sylvan Star Gouda Tasting
Yalumba, Octavius, Barossa Shiraz 2013
5th Course
Friandise
The Calgary Winter Club would like to Thank Linda Robinson, Sam Holmes, and Negociants Interantional for being a part of this evening
and sharing their knowledge and wines from this wonderful wine region.